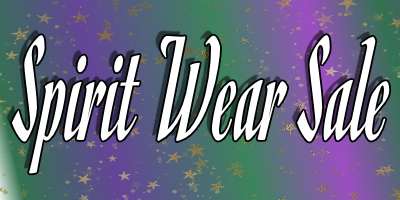 The Fall 2022 Spirit Wear Store has closed.
Items purchased from the Fall 2022 Store is anticipated to ship in early October.
We plan to open the store later in the school year.
Please read this Important Information about the Store before shopping
Shipping to your home is $8 per order, with free shipping for orders over $50.
Shipping to the school is free!
**Items shipped to the school will sent home with a student.
All orders will ship about 20 business days after the store is sent to production (when store closes).
Size charts are available on each item. All sales are FINAL. Refunds or exchanges will not be offered. Purchasers should consult the size charts before making a purchase.
From the store operator: Please note that due to stock shortages, some featured items may become unavailable after purchases are made. We reserve the right to make comparable substitutes which can affect exact sizing, or refunds issued in the event a comparable item does not become available.
Please note that all orders through this shop are considered contributions to the organization.
Store closed at 11:59pm on Monday, September 19.
Questions: Email kpkgptaspirit@gmail.com