THANK YOU SO MUCH!!!
With your support and generosity, the PTA was able to achieve historical levels with Boosterthon.  We raised over $54,000 this year.  To say, we are blown away by this number is an understatement.  In our nine years with the Booster team, this is our highest ever total!  
Beyond the financial numbers, we had an all-time high registration level of 76%! 
We had a 63% participation rate, another all-time high. 
Thank you to all of the parents, relatives, neighbors and other sponsors who took the time to register, share and donate to support the students, teachers, schools and community!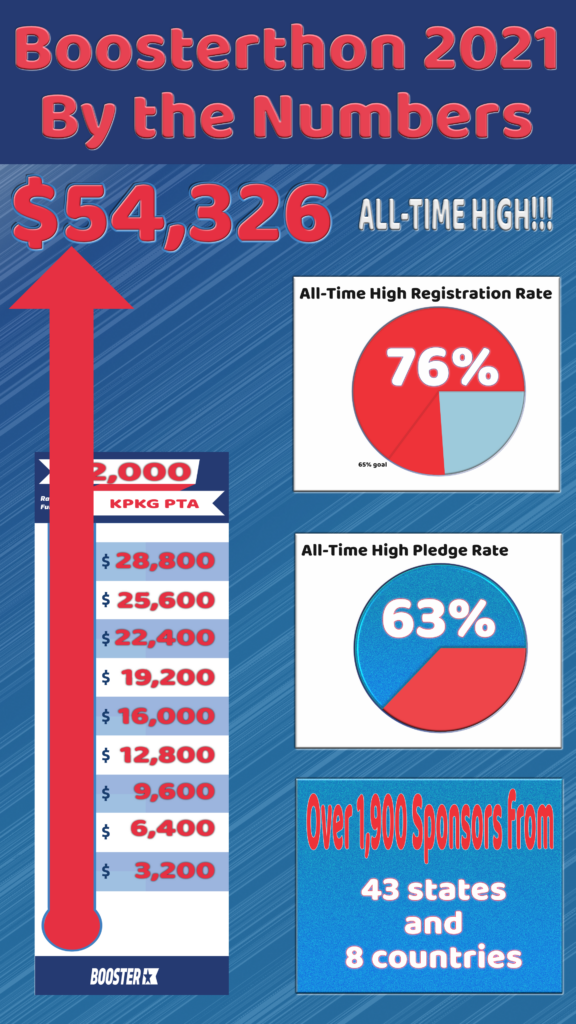 ---
WHAT IS THE BOOSTERTHON FUN RUN?
Boosterthon is back this year with the always exciting in-person Fun Run. Students will run around a track for a set amount of time. They will be getting exercise while raising money for their schools.
Boosterthon Fun Run is the largest fundraiser the KPKG PTA does each year to raise funds to support our students and schools. By collecting pledges from family and friends across the world, you are supporting all the Kings Park/Kings Glen community.
This year the Sports City crew is back and going World Wide. Students will journey around the globe to meet kids while learning about curiosity, practice, confidence, humility and endurance.
Students can win prizes for collecting pledges. Prizes will be delivered daily to their classrooms.
All students will participate in the Fun Run event on September 24, regardless of financial participation.
DAILY CHARACTER LESSONS
Every day, students will view and learn character lessons from the crew of Sport City Worldwide during their daily news shows. 
NIGHTLY CHALLENGES
Each night of the event we will have a nightly challenge plus a weekend challenge where students can win a bonus prize.
PLEDGING & SHARING
Pledging is super simple using myBooster.com. Donors can choose to pledge a flat-rate (ex. $35) or a per-lap amount ($1/lap). This year, in order to prevent close contact during the Fun Run, each student will automatically be assessed 34 laps.
What does this mean? If a donor chooses to pledge $1/lap, the total donation will equal $34.
MyBooster.com allows your to quickly and easily share your student's pledge page. Sharing is Caring. Every share and donation counts!
CORPORATE MATCHING
In cooperation with Double the Donation, Boosterthon is making Corporate Matching Donations easy for everyone. After entering a pledge, simply search to see if an employer will match your pledged donation. Follow the additional information to have your donation matched. The matched gift goes directly to the PTA to help support our students and schools.
For more information, click here.
PRIZES
Students earn prizes at various levels of support. Just by logging on and registering they receive a prize and five entries into the Boosterthon Sweepstakes.
In addition to the prizes, this year there is a change to win a Disney Family Vacation in the Boosterthon Dream Vacation Sweepstakes by completing tasks in your student's dashboard.
For more information on Prizes, click here.
For more information on Sweepstakes, click here.
THIS YEAR'S GOAL
Our goal is to raise $32,000 for water bottle filling stations, classroom and technology enhancements, as well as for other school and PTA projects.
In addition to the monetary goal, we have a 65% student registration goal.  Each school will have an Ultimate Reward if 65% of the student population registers on myBooster.com. 
FUN RUN DAY – SEPTEMBER 24
Everything leads up to the Fun Run on September 24 during school hours. Details for the day are still being finalized to meet the ever changing safety precautions. The Kings Park portion of the day will take place in the morning and the Kings Glen portion of the day is in the afternoon.
Each student will receive a Fun Run T-shirt on Friday to wear during the run. These shirts are provided by our fantastic sponsors and the PTA.
Questions? Please contact VP of Fundraising, Sarah Maccubbin-Tremper.