Friday, September 17
6-8pm
Kings Glen Elementary Playground/Blacktop
Come meet new friends and reconnect with old! Find out about after-school providers and other community groups while enjoying some cool treats provided by the PTA.
The PTA will be providing a choice of an individually wrapped ice cream treat or a freeze pop.
Bring a blanket or chairs and make it a picnic.
This is a FREE FAMILY EVENT.
Click here for a list of Resources anticipated to attend the event.
Please note building access is not available. Restrooms will not be available.
Masks are not required as this is an outside event.
Questions: Please contact Amy Johnson, VP of Events.
---
The PTA will accepting items to be donated to Food for Others and ECHO.
Food for Others most needed items include:
Fresh fruits (oranges, apples, bananas, tomatoes, avocados, grapes, berries)
Fresh vegetables (cucumbers, celery, peppers, lettuce, eggplant)
Canned chili
Cereal
Canned tomato products (crushed, peeled, diced, etc.), 4oz – 1 lb
Canned meat (chicken, beef, turkey, or seafood), 2oz – 15oz
Rice, 16oz packages
Spaghetti sauce, 14oz – 1 lb (ideally in cans instead of glass)
Canned fruit (packed in fruit juice instead of syrup) 11oz – 20oz
Dried or canned beans (black, kidney, pinto, etc.)
Pasta
Fruit juice (100% juice) 32oz – 64oz
New or Clean Reusable Grocery Bags 8 ½ x 14 x 15
Food for Others is unable to accept donations of items that are more than 3 years expired, opened items, food that is not labeled, homemade items, or cooked food.
ECHO needed items include: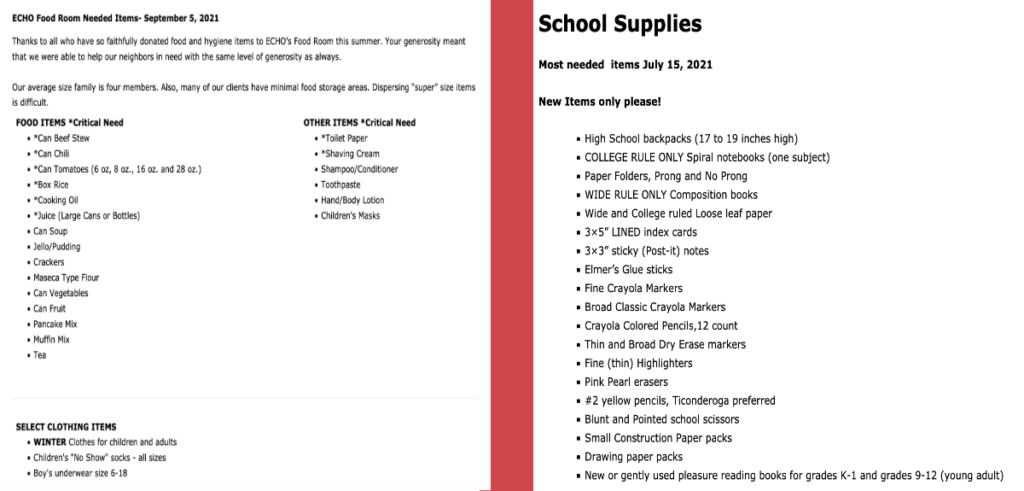 Please check the respective websites for the most up-to-date information on needed and accepted items (Food for Others & ECHO).
---
The KP & KG School Counselors will be collecting items for families in-need in our community. Items needed:
Backpacks (new)
Winter Coats (new or gently used)
Gifts Cards from Target, Walmart, local grocery stores in $10 & $20 denominations
Visa/Mastercard Gift Cards
If you are unable to donate these items on Friday, please reach out to the counselors directly.
---
Thanks for helping support those in our community in need.
Questions about donations: please contact Lisa Jones, VP of Education.