Join us to recognize and celebrate Native American Heritage Month with an children's educational program at Hidden Oaks Nature Center sponsored by the Kings Park/Kings Glen PTA.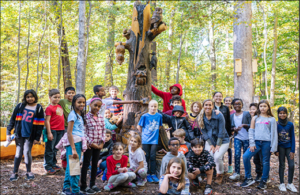 Students will study the life of a young Powhatan child during the time of the first settlements, comparing a child's life today with a child's experience then. The program includes a presentation in the outdoor amphitheater, followed by Native American games and a trail walk, highlighting Native Americans' uses of plants and animals, and their knowledge of survival in the woods.
WHEN: Saturday, November 6
9:30am—10:30am (program geared slightly younger)
11:00am—12:00pm (program geared slightly older)
WHERE: Hidden Oaks Nature Center
Hidden Oaks Nature Center
7701 Royce Street
Annandale, VA 22003
You must register for this event ahead of time. Space is limited.
Please register children for only one of the two sessions. Parents do not need to register.
If you register, and realize you can't make it, please remove your registration so another family can participate.
Once you register, the PTA will send additional information about parking and other details about the program.
The program will take place outside, rain or shine. Masks are not required outside, but are strongly recommended.
This is a FREE program sponsored by the PTA.
Questions: Please contact VP of Education, Lisa Jones