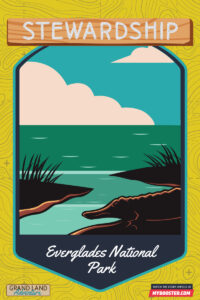 Today the students learned about STEWARDSHIP while venturing to Everglades National Park in Florida.  Stewardship is defined as "Caring for what's been given to you and not wasting it."  To view the video, click here: https://vimeo.com/721116298/eab65fee21
Today's National Parks Fun Fact
The Everglades is made up of 1.5 million acres of subtropical wetlands (the largest in the U.S.) and is home to the largest mangrove ecosystem in the western hemisphere.**
https://www.nps.gov/ever/index.htm
** Fact from: One Fascinating Fact About Each of America's National Parks
---
Weekend Challenge
If a student receives a total of $2/lap in NEW pledges (or $60 in flat donations) over the weekend, they'll receive a special Boosterthon Bonus prize!
---
Thanks for your support of Kings Park and Kings Glen!
All Booster FunRun 2022 information can be found here.
Questions, please contact VP of Fundraising, Sarah Maccubbin-Tremper.