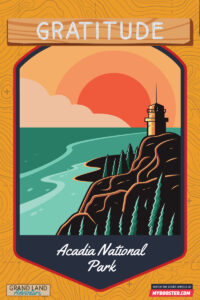 Today the students traveled to Acadia National Park in Maine to learn about GRATITUDE.  Gratitude is "Taking a moment to think about or express deep thankfulness for people or things in your life."  If you want to view the video, click here: https://vimeo.com/721116206/7572c61eac
Acadia Fun Fact:
Acadia National Park is home to Cadillac Mountain, the tallest peak on the East Coast and the 1st place you can spot the sunrise in the U.S. from October to March.**
https://www.nps.gov/acad/index.htm
**from One Fascinating Fact About Each of America's National Parks.
---
Thanks for your support of Kings Park and Kings Glen!
All Booster FunRun 2022 information can be found here.
Questions, please contact VP of Fundraising, Sarah Maccubbin-Tremper.