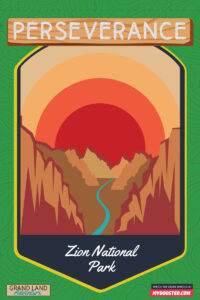 Today the students move east to Utah and Zion National Park.  They learn about the character trait of PERSEVERANCE or "Not giving up – even when things get tough."  Check out the video here: https://vimeo.com/721116424/b1b9e8a5ed
Today's Fun Fact
The Subway trail is so difficult a permit is required. The 9.5 mile trail at Zion involves creek crossing, scrambling, route finding and swimming.**
https://www.nps.gov/zion/index.htm
**One Fascinating Fact About Each of America's National Parks
---
Tonight is the 50 state challenge! Do you know someone who lives in a different state? If you do, ask them for a pledge on Mybooster.com!
---
Thanks for your support of Kings Park and Kings Glen!
All Booster FunRun 2022 information can be found here.
Questions, please contact VP of Fundraising, Sarah Maccubbin-Tremper.