Instead of ONE crazy night, you have FOURTEEN nights of browsing and bidding for our great baskets.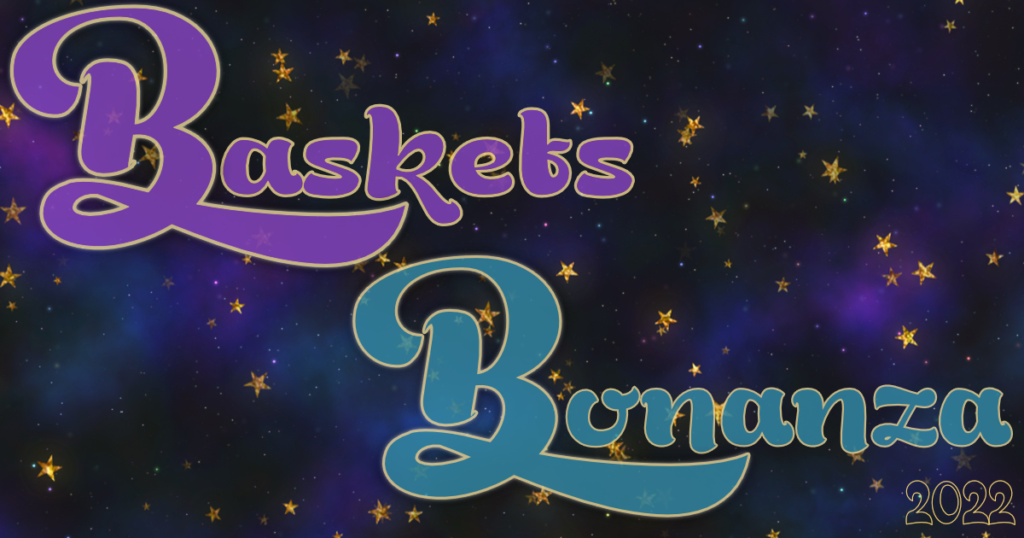 Baskets Bonanza 2022 is ONLINE!!!
Raffle opens at 5:30PM on THURSDAY, MARCH 3 and closes at 8:00 PM on THURSDAY, MARCH 17.
Tickets are $1 each. Tickets must be purchased in multiples of 5.
Make sure you read the RULES of the event.
Buying for Multiple Children??? Click Here
ONLINE TRANSACTIONS can be done quickly by credit card. OFFLINE TRANSACTIONS available for cash/check.
ONLINE TRANSACTIONS
Want to pay by credit card? Need to do your transaction immediately? Did you wait to the last minute? Buy your tickets directly on the Raffle Website.
The Raffle Website is super easy to use.
Click Enter Raffle
Choose the number of tickets you are purchasing.

There is a $10 MINIMUM per TRANSACTION.
Buying for Multiple Children? Click Here

Scroll down and place your tickets in your chosen baskets.

You must place all your tickets in baskets before Checking Out.

The baskets can be filtered into different categories for ease of finding.
Click "Show Detail" to view a description/items in the basket.

Click the + sign to add the number of ticket to each basket.

If you want to add all tickets to 1 basket, click "Add Bulk."

After all tickets are placed, Scroll Down and click Check Out.

On the Check Out Page, make sure to include Grade and Teacher in Additional Notes section.

All transactions are subject to a 6% service/processing fee. This covers the fee the credit card processing company charges the PTA.

A confirmation email with ticket numbers and baskets selected will be sent upon completion of the check out process.

If your email is missing the basket information, please let us know ASAP.
OFFLINE TRANSACTIONS
We are accepting cash and check only until Monday, March 14th. The MINIMUM amount of an offline transaction is $5.
Simply print THIS FORM and fill out completely. Enclose your payment and return to the schools in a sealed envelope.
If you don't have a printer, simply write your Name, Email, Grade, Teacher and the baskets and number of tickets you are purchasing on a piece of paper.
We will pickup all payments/forms at the schools following the March 14th deadline. After your choices are entered into the raffle, you will receive a confirmation email before the raffle closes.
SCHOOL SPECIFIC BASKETS
We are so happy to have teacher experiences and teacher donated items return this year to the event. These items are marked as either "KP Students Only" or "KG Students Only." Please only enter your tickets in baskets that you are eligible for in these two categories. Winners not meeting the school eligibility requirement may be voided by the PTA.
MULTIPLE CHILDREN PURCHASES
If you are purchasing tickets to be divided between several children, there are two options.
(1) Purchase tickets for each child in separate transactions using each child's name.
(2) In the Order Notes section, simply note each child's name along with the baskets into which each child's ticket portion was allotted.
Note: If two children want the same basket choosing the separate transaction option is highly recommended to avoid potential confusion or drama.
DRAWING
Winners will be drawn at random utilizing the online platform provided by the raffle website host, Chance2Win at 8:15PM on Thursday, March 17.
WINNERS
Winners will be contacted via email once the event organizers receive the Verified Results from the raffle website host. The winners list will also be posted on this website, the PTA Facebook Group and via the PTA Newsletter.
PICK UP OF WINNINGS
Winners (or their representative) must pick-up items at the times provided by the PTA. The winner, if unable to pick up items at those designated times, must contact the designated person to schedule an alternative time. Items cannot be shipped or mailed to the winners.
---
Questions about purchasing tickets? Contact baskets@kpkgpta.org